The Herring Era in art
The period 1900-1968, has consistently been named 'síldarárin' or 'the herring era.' Countless artists have captured this era's fishermen and women, its industry, landscapes, and atmosphere.

Young Icelandic artists of the early 20th century had to consider the cultural heritage of the established European arts. This became the foundation upon which their art grew and, though it was strong, it proved difficult for many to move forward independently given the turbulence of the times. Revolutionary ideas and policies were challenging old beliefs and traditions. For the first time, questions such as 'who does art serve?' were asked. Should artists cater to the conservative tastes of collectors or represent the ideals of the common people? Was personal artistic vision enough? A variety of responses can be found in the works of the artists included here.
One of the most radical movements was abstraction. One can imagine the impact of the Expressionist movement on the traditional painters of romantic landscapes and society figures. The Expressionist painters were educated in European art schools but the influence of their work rippled throughout the artistic milieu of Iceland. In publications by Björn Th. Björnsson, an Icelandic artist of this time, it appears that one town is mentioned more often than others - Siglufjörður, the Herring Capital of Iceland. Some artists visited during the summer while others came to stay for longer or shorter periods, and still more grew up surrounded by the influence of the previous generation of artists. Painters traveled to the remote mountains of Siglufjörður and in turn their paintings traveled as far as the exhibition halls of cities such as Paris and New York.

  .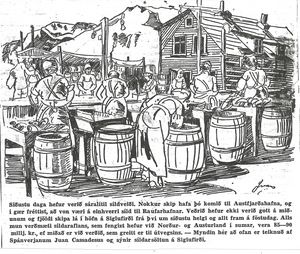 The reality was that for decades this remote town had welcomed a large part of the nation's population during the herring season. There were people at work, in colorful surroundings, with salting stations, ships, and mountains in the background. Sunshine colored the herring girls skirts bright yellow and people danced to the accordion. Interestingly, towns other than Siglufjörður do not seem to be connected to the subject of herring in art.
During this period one of the most common motifs in art was 'the working man': fishermen in the paintings by Gunnlaugur Scheving, harbor-workers in the work of Snorri Arinbjarnarson and the saltfish women in the works of Jóhannes Sveinsson,  Ásmundur Sveinsson and Kristín Jónsdóttir. Farmers were painted by Scheving, Sveinn Þórarinsson and Júlíana Sveinsdóttir. And finally the "herring people" – here we'll look at the painters that are linked to the period of "herring art."

An exhibition of key works was shown in 2004 at Gallery Grána in the Herring Museum.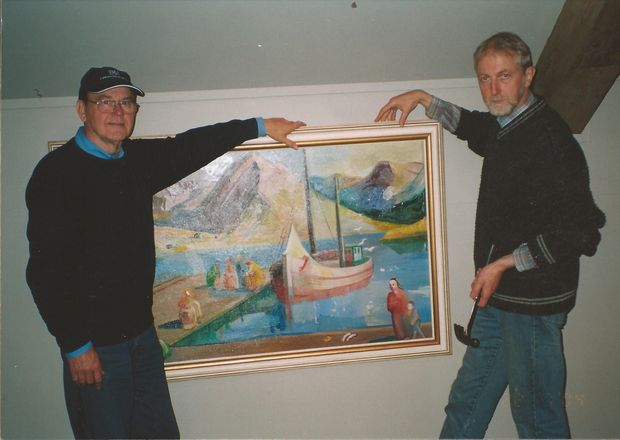 Ragnar Páll and Örlygur Kristfinnsson setting up the exhibition in Grána in 2004.